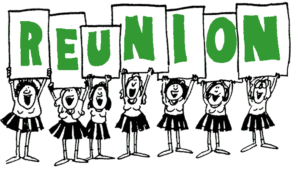 EHS Class of 1962's 60th Reunion
The Everett High School Class of 1962 60th Class Reunion is scheduled for Saturday, September 17th, 2022 at Jimmy's Steer House in Saugus, MA.
Classmates, please complete the survey information below to let us know whether or not you are planning to attend.
If planning to attend, please send your payment and meal selection(s) to Dottie (Merlina) Hensley or Sue (Cohen) Huberman.
We hope to see you there!
---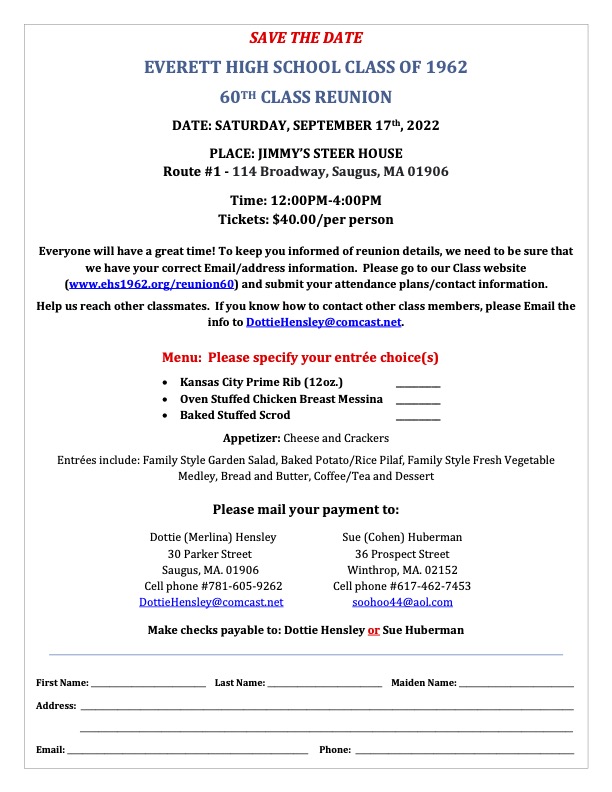 ---
Survey Results
| Last Name | First Name | Maiden Name | Attending? | Submitted |
| --- | --- | --- | --- | --- |
| Berlandi | George | Not Applicable | Yes | 03-30-2022 |
| Cardello | Diane | DeVito | Yes | 04-06-2022 |
| Chamberlain | Phyllis | Atwood | Unsure | 04-13-2022 |
| Cronin | Ray | Not Applicable | Unsure | 04-15-2022 |
| Dentremont | Carole | Not Applicable | Yes | 04-01-2022 |
| Driscoll | Kathy | Imbornone | Yes | 04-01-2022 |
| Ehrlin | Rhona | Loiter | Yes | 05-10-2022 |
| Graziosi | Albert | Not Applicable | Unsure | 04-30-2022 |
| Henrikson | Neil | Not Applicable | Unsure | 05-09-2022 |
| Huberman | Sue | Cohen | Yes | 04-01-2022 |
| McCue | Catherine | Carbone | Yes | 03-31-2022 |
| Olsen | Bill | Not Applicable | Yes | 04-28-2022 |
| Perrier | Rosemarie | Poste | Yes | 04-11-2022 |
| Poste | Edward | Poste | Yes | 06-25-2022 |
| Quealy | Marsha | Smith | Yes | 03-25-2022 |
| Raymond | Jean | Murphy | Yes | 04-12-2022 |
| Reston | Walt | Not Applicable | Yes | 03-30-2022 |
| Snowdon | Mary Ann | Palladino | Yes | 03-31-2022 |
| Taylor | Gilda | Romanelli | Yes | 04-09-2022 |
| Williams | Eva | Capachietti | Yes | 06-10-2022 |