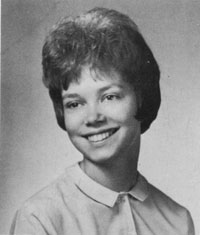 GOLDEN, Virginia "Ginny" (Ells) Of Stoneham, formerly of Amesbury, Reading and Everett, passed away June 1, surrounded by her family.
Born in Boston, MA, Virginia was the daughter of the late Harry Ells and Doris Conrad Ells. Virginia attended Everett schools, graduating in 1962. After graduation she earned an Associate's Degree from Mount Ida College.
She was a proud Crimson Tide alumnus, serving her class in many capacities. She loved Everett and Everett football more. She was a four year Cheerleader and Co-Captain her senior year. Virginia enjoyed her childhood summers on Long Island, ME in Casco Bay. She loved the Maine coast and the company of her lifelong island friend, Margaret Jealous Lane.
Virginia was an incredibly strong and selfless person that persevered through the tragic loss of her husband in the winter of 1978. At the age of 33, she raised a family of four with the unconditional support of the Ells family, Doherty family and the Friends of Reading Hockey. Virginia worked as a medical assistant for her entire career, primarily at Burlington Podiatry and Choate Medical Center. She loved watching sports; football, hockey and tennis were her favorites. She loved talking about the Ells and Golden family history and all the families she grew up with in Everett and on Long Island. She enjoyed people, laughing, crosswords and a good puzzle with Richard Lane at the Westover Cottage.
Virginia was the beloved wife of the late Francis Joseph Golden and the devoted mother of Michael Ells Golden and his wife Kelly (Byrne) of Reading, Jennifer Golden Vultaggio and her husband Paul Vultaggio of Winter Garden, FL, Francis Golden and his wife Claire Rittenburg Golden of Reading and the late Ryan Girard Golden. She was also the cherished grandmother of Shawn Golden, Olivia and Cole Vultaggio, and Kevin, Brooke and Maura Golden. She was the adored sister of the late Wilfred Conrad Ells and his wife Lou Ells and the loving aunt of Mark Ells and Karen Ells McGrail. She was close with her cousin Janie Fowler Beardsley and her two children, Erica Fowler and Brett Fowler.
Burial is private. Virginia will be laid to rest with her beloved husband Francis and son Ryan in Woodlawn Cemetery, Everett. In lieu of flowers, please make donations in Virginia's name to the Long Island Historical Society (LIHS), Box 281, Long Island, ME 04050. Arrangements by the Cota Funeral Home, 335 Park Street, NORTH READING.
www.cotafuneralhomes.com